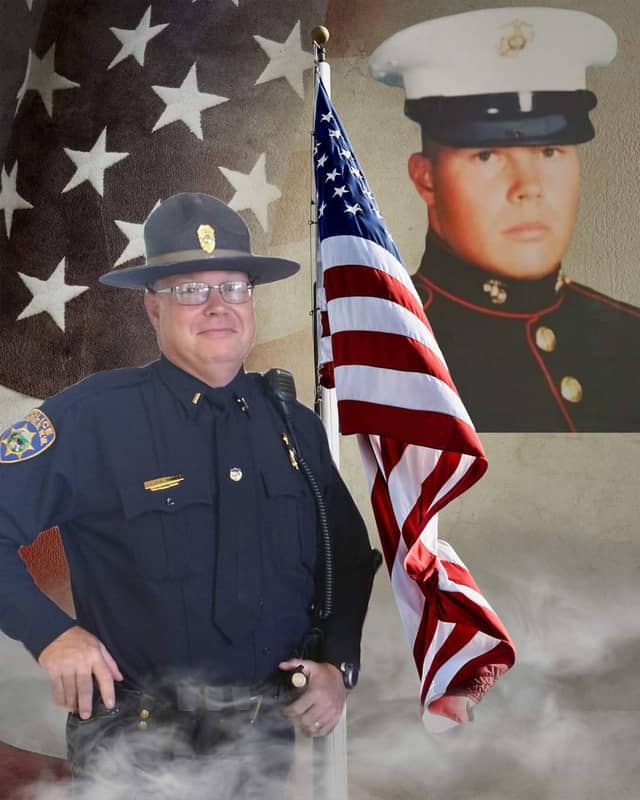 On this episode of the Stolen Goodbyes podcast, Karen is joined by Jerri Vance from West Virginia, USA, who lost her husband James to Covid 19 on New Year's Day 2021.
Jerri tells how James spent his life serving others, first in the Marine Corps, and then as a police officer, and was a proud and protective father who always went the extra mile to make their lives better. 
Tragically, Jerri relates how a week after developing a cough, a fit and healthy James had been hospitalised with doctors telling her he had Covid Pneumonia which made his lungs look like blown glass. 
Jerri heartbreakingly shares how she always believed James was coming home and that doctors believed they could save his life, saying James was: "supposed to be our success story."
After his death, Jerri discovered phone messages in which James told friends how scared he was, but he never revealed his fear to his family, their protector to the last. 
0:00 – Intro 
00:55 – Jerri explains that James's life was dedicated to serving and protecting others, first in the Marine Corps and afterwards as a police officer
01:29 – James was an amazing 'girl dad' who never missed a dance recital 
03:25 – Jerri tells how James asked her out for nine months before she agreed to go out with him, yet they were engaged three months after they first began dating 
04:30 –  Karen asks what James's most loveable quality was 
05:48 – Karen asks what Jerri misses about James on a daily basis 
06:40 – Jerri says that while James suffered from high blood pressure his entire life, he did not fit the profile of someone vulnerable to Covid 19 
08:00 – Jerri explains that on December 1, James had a slight cough but said he was okay and he didn't think he had Covid 
10:00 – Jerri says she tested positive for Covid 19  
11:45 – James began complaining of a sore stomach and started to violently throw up. Their local hospital did not have any Covid beds so they sent James to a hospital four hours away 
14:37 – Doctors confirmed James had Covid Pneumonia, saying that his lungs looked like blown glass. A week after his first cough and four days after his positive test 
15:55 – James was transferred to another hospital that was six hours away 
17:00 – Jerri says doctors told her James was stable 
19:08 – Jerri is kept awake at night knowing James was alone and she worries constantly whether he thought she abandoned him
20:15 – Jerri says the family FaceTimed him at Christmas although he was sedated
20:24-  James started improving after spending 19 days on the ventilator
21:00 – Jerri says hospital staff started talking about giving James physical, occupational and speech therapies which made her believe he'd be coming home
21:31 – The family spoke to James on December 31, their daughter's birthday. Jerri and James said they loved each other and their daughter said she wanted her dad home so they could build her Barbie house together
23:15 – Jerri reveals that twelve hours after that conversation, James was gone
25:15 – Jerri was half way to Pittsburgh when she learned James had gone into cardiac arrest. They stopped on the side of the road where she told the children their dad had died
26:47 – Doctors and nurses were very upset they couldn't save James as he was: "supposed to be our success story."
29:46 – In hospital, Jerri says James looked like he was sleeping on the sofa, he didn't look sick 
30:20 – Karen asks Jerri what it felt like not to be able to say goodbye 
33:40 – Jerri tells how she went through James's phone and discovered messages where he told friends how scared he was but protected her by saying he was going to be okay
34:37 – She says that up until the time she got the call to say James was gone, she always believed he'd get better and would come home 
37:57 – Jerri says she never dreamed that at age 39, she would be a widow
40:05 – Jerri says her world and that of her children will never be normal again.